Need Help ???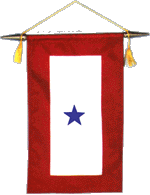 Alger County WWII
Memorials
In about 1900 many Slovenian country people came from their homeland around Ljubljana, bordering Italy, Austria, and Hungary, to work in Upper Peninsula mines and lumber camps. Michigan was well known in Slovenia because of the energetic activities of Slovenian missionaries, beginning with Father Frederick Baraga, the legendary Snowshoe Priest.

Slovenes who worked in Michigan lumber camps settled in this neighborhood. Their Slovenian hall, cemetery, general store, and tidy two-room school remain today, neatly arranged around the intersection of Limestone-Traunik Road (H-44) and Eben Depot Road (H-01).

Coming upon Traunik is a little like falling into a time warp. The story goes that storekeeper and postmaster Louis Mikulich commemorated his native Slovenian village when he changed the settlement's name from Buckeye Landing (commemorating the Buckeye Land & Lumber Company) to Traunik. Pronounced "TRAW-nik," it means "meadow" in Slovenian.



For a look back at

Mikulich's General Store

, and how it was truly one-stop shopping, visit

traunik.com

. In the fall of 2013, David and Laura Coleman reopened the store as Mikulich General Store & Deli, a restaurant that serves genuine hickory smoked pit-style BBQ, homemade pizzas, deli sandwiches, and a Tex-Mex menu.


.
The Traunik Slovenian Hall has been preserved thanks to the efforts of native son and current resident Frank Bartol, a retired Northern Michigan University English teacher. "It was too precious to go down," he says. Many such landmark buildings could be safeguarded, he maintains, "if the people who love an area would pony in" to acquire and maintain them. The hall, not open to the public, is now used for occasional weddings and two polka dances a year. Occasionally it hosts a big reunion with visitors from Slovenia.

Frank wrote for the historical marker: "To this place [the Slovenian settlers] came, beginning in 1912, and when enough had formed a community, they named it 'Traunik.' . . . They brought with them a willingness to work and a determination to succeed. Out of the forests they shaped fields, homes, and a good life for their families. This monument has been placed here. . . by their children and grandchildren, now scattered about the world but tied by invisible bonds to this spot, where once the night air was filled with Slovenian melodies."