---

---

---
ARCF Accepting Grant Application for PHLAG
APPLICATIONS ARE ACCEPTED BY THE ALGER REGIONAL COMMUNITY FOUNDATION FOR GRANTS FROM THE Promoting Healthy Lifestyles Across the Generations (PHLAG) Fund - $5200
Proposal must be for smoking prevention or cessation programs/projects for youth or seniors.
APPLICATIONS ARE DUE NOVEMBER
Call the ARCF office at 387-3900 FOR APPLICATION PACKET AND MORE INFORMATION.
---
ARCF Awards New Grants
The Alger Regional Community Foundation has announced the grants awarded during the most recent cycle. Over $6000 was awarded to five different organizations.
The Promoting Healthy Lifestyles Across Generations Funds are available from the federal tobacco settlement distributed to community foundations in Michigan. These funds are to be used for youth and senior health related activities and are based on the number of Alger County residents under 17 and over 65. Recipients of this round of grants are:
Good Shepherd Lutheran Church - $1355 to provide smoking danger awareness and healthy activities (such as National Kick Butts Day).
Munising Public Schools - $1355 to purchase winter outdoor equipment, giving middle school students an introduction to activities that will teach healthy life choices.
Commission on Aging - $1355 to expand their Dementia Day Care program.
Grants were awarded from the Rotary Youth and Put the You into Youth funds. These grants are designated to provide support of youth activities. Recipients are:
AuTrain-Onota School - $1200 for a Pre-School Literacy
Program and a Community Building project that will bring
youth and community adults together in several activities.
Munising Public Schools - $650 to bring motivational speaker Frida Waara
to the community to share her North Pole expedition experiences with high school students.
Burt Township Schools - $775 to support a Time Machine Program that will teach today's youth about the copper mining period of the early 19th century.
Grant funds available in 2003 will be announced in the near future. For more information, call the ARCF office at 387-3900.
---
NEW ENDOWMENT ESTABLISHED AT ARCF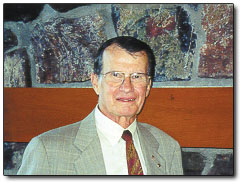 A 70th birthday is a memorable occasion. Just how do you celebrate it? The children of Richard Nebel found a special way; and, to honor their Father, established a new fund at the Alger Regional Community Foundation. The Richard Wm. Nebel Endowment Fund was initiated by gifts from Richard's children - Kelly Nebel, Lauri Cullen, and Mark Nebel. Other family members and friends have also honored Richard with gifts to this named endowment fund.
The field-of-interest fund was established to provide support for community projects that improve the aesthetic appearance of the community in order to spur economic development, such as, but not limited to: tree planting, flower planting, and work on the Grand Island lighthouse; and/or any other general charitable and educational purpose or activity.
Richard William Nebel was born in Ann Arbor, Michigan on September 22, 1931. Richard attended William G. Mather High School and furthered his education at Albion College, graduating in 1954. After serving in the U.S. Army for two years at Fort Sill, Oklahoma, he returned to Munising where he began his work as an insurance agent with the Peoples State Agency. He later entered the banking business where he served as President and is currently Chairman of the Board. Richard has been actively involved in numerous charitable and community organizations assuming leadership roles in many of these organizations.
"Richard is one of the organizers and a former member of the Board of Directors of the Alger Regional Community Foundation. He was honored in 1999 with a Director's Award, acknowledging seven years of commitment to Alger County through service with the community foundation," stated Mary Bowerman, ARCF Executive Director.
"My Father has always cared about the importance of a beautiful looking community. Over the years, he has devoted much time and energy to the various beautification projects in Munising, and our family felt it was important to establish this endowment to commemorate his efforts, and continue to raise funds for such projects. Munising is one of the most beautiful places in the world, and our family wants to continue to support keeping it that way," Kelly commented.

Gifts may be made at any time to this fund and when the endowment reaches the $5,000 level, ARCF will begin accepting proposals for grant awards for projects or activities as listed above. "What a fitting way to honor a man whose life and spirit are dedicated to Munising and Alger County. The fund will assure that this community and the things that are so important to Richard will continue to be supported forever," concluded Bowerman.
---
SCHOLARSHIP FUND HONORS JEROME ELAVSKY
Jerome "Jerry" Elavsky was born on December 24, 1935, in Munising. He was the youngest son in a family of eight children. His parents, Mary & Michael had emigrated from Czechoslovakia during World War I.
Following graduation from Mather High School in 1954, he enlisted in the U. S. Army. He married Sheila Paton and they resided in Superior, Wisconsin. Jerry was a sales representative for the food industry.
He was known to hundreds of people in the Superior-Duluth community as a devoted father and husband, a generous friend, a tireless volunteer, and a remarkable good cook who often used is culinary skills on behalf of local nonprofit organizations.
Following his death in 1999, family member began considering what they could do to honor and memorialize this gentle, loyal, and open-hearted man. The result is a scholarship fund named in his honor.
The Jerome P. Elavsky Scholarship Fund is designed to benefit college-bound high school students from Munising High School. The fund was established by family members and scholarships will be available when the fund reaches $5,000. "Although Jerry himself didn't have the opportunity to attend college, he valued education. Even more important, this fund reflects his generous nature and his willingness to go the extra mile in helping others - two of his strongest, most enduring and most endearing traits," stated a family member. Scholarship recipients will be selected who display some of these same characteristics.
---
SCHOLARSHIP ESTABLISHED AT ARCF
Paul and Alice Simonen were children of Finnish immigrants who recognized the importance of education. Their three sons, Thomas, Edward, and Fredric recently established the Paul & Alice Simonen Scholarship Fund at the Alger Regional Community Foundation in their honor. The scholarship is set up to help Alger County students further their education and the first award of $500 will be made in June 2002.
Paul (1910-1994) came to Alger County from Finland at the age of two. He graduated from Mather High School in 1927 and then from Michigan Tech. He was a paper chemist at the Munising Paper Company, later Kimberly-Clark Corporation.
Alice (1908-2001) was 18 when she came to Alger County to teach elementary school in Melstrand. She subsequently taught in Shingleton, VanMeer, and Munising schools. Alice graduated from Ishpeming High School and Northern.
"This scholarship fund is a first for ARCF in that it is available to anyone from Alger County looking to further their education. It is a one-time scholarship (non-renewable) designed to assist not only current graduates, but any Alger County resident. It is really exciting to be able to offer support to those individuals who may not have had the opportunity to seek additional schooling right after high school or to those who are currently enrolled," commented Mary Bowerman, ARCF Executive Director.
Graduates of the Class of 2002 from any Alger County high school may pick up an application form at their school guidance office. Any other individual (not a current graduate) may request an application from the ARCF office.
The purpose of this scholarship fund is to provide a grant to person(s) pursuing post-secondary education at a college, university, vocational, or technical institute. Preference will be given to an individual with future potential as evidenced by an exceptional record of achievement in school, community, and/or employment. Examples of achievement may include, but are not limited to, areas such as academics, fine arts, athletics, technology, volunteerism, service clubs, work/military experience.
---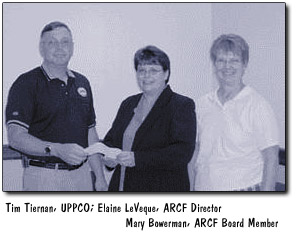 ARCF RECEIVES UPPCO SUPPORT
The Alger Regional Community Foundation was recently presented a check from the WPS Resources Foundation, which is U.P. Power Company's philanthropic entity.
"We selected the ARCF because it is Alger County's most benevolent organization. We felt this grant will find its best use through the Foundation," stated Tim Tiernan of UPPCO.
The grant is unrestricted and will allow ARCF to put it where it can best serve the community.
"We are delighted that UPPCO has made this unrestricted gift to us," stated Elaine LeVeque, ARCF Executive Director. Because of the need for administrative support at this time, one half of the gift will be used during the next year for operations and the other half will be endowed in the Operating Endowment. "UPPCO's gift will help us now and in the future. This is a true example of community foundations' motto - For good. For Ever." added LeVeque.
---
ARCF ANNOUNCES GRANTS
The Alger Regional Community Foundation has awarded grants following recent approval by the Board of Directors. Just over $14000, from five different funds, will be distributed for programs in the areas of the arts, education, health, and social welfare, benefiting Alger County residents of all ages.
Grants from "Put the You into Youth" and Michigan Community Foundation Youth Project (MCFYP) funds were awarded to the Munising 4-H Drama Club ($1664), Superior Central Schools ($1100) and the AuTrain-Onota School ($2000). "The grant requests from these organizations are examples of programs or activities that will help our youth grow up experiencing many of the 40 developmental assets necessary for them to grow up healthy, caring and responsible," stated Mary Bowerman, ARCF Executive Director.
The grant to the 4-H Drama Club will be used by the local youth to attend various theatrical performances throughout the area. "The unique blend of middle and high school age youth in this group who are eager to learn about theater and then put their knowledge to work in a small production is really exciting," added Bowerman.

The Sewing & Cooking Club at Superior Central Schools is in its second year. This group of middle school aged youth are learning living skills in an after school program utilizing volunteers. The grant funds will be used to provide supplies for their activities including cooking and sewing skills, etiquette, and proper nutrition.
The music department at AuTrain-Onota School will receive funding for the purchase of several musical instruments to be lent out to 5th & 6th grade students who want to participate in the school band. The purchase of these pieces will allow all kids interested in participating in band to do so.
Four agencies were awarded grants from the Promoting Healthy Lifestyles Across Generations (PHLAG) Fund. These funds are made available for distribution by community foundations as a result of the federal tobacco settlement. Funding received by ARCF is based on the number of residents in Alger County under the age of 17 and over 65. One half of the funds received is endowed and the balance is passed through to support grants that will promote healthy lifestyles. The proposals submitted will benefit both age groups.
The Commission on Aging received 3 grants totaling $3700. These grants will provide injury prevention safety devices for homes of eligible seniors such as smoke detectors, handrails, and grab bars. A second grant will help fund a Sunday Dare Care program for dementia patients so that family and caregivers can get away to attend church services, etc. Due to the growth in need for home services, the COA has increased the number of its employees to meet those needs. Funding was received to help the agency provide training for new employees to better handle the larger demand for services of the elderly.
The Trenary Senior Citizens Club received a grant of $1200 to help with the continued improvements at their Center. Funds will be used to winterize the facility so that it can be used year round for such activities as blood pressure clinics, monthly meetings, nutritional services, social gatherings, etc.
The Burt Township Ambulance Corps received a grant of $1500 to help provide supplies and training equipment for the new ambulance recently obtained to serve the residents of eastern Alger County.
The LMAS Health Department and its Community Health Advisory Committee, in collaboration with the Munising High School Cheerleaders, submitted a grant proposal that would bring PRIDE of Newaygo County to MHS, with students from Burt Township and Superior Central, and AuTrain-Onota schools attending as well. PRIDE is a peer-to-peer anti-drug program which teaches through the use of skits and songs. Two performances will be scheduled, one for middle school and one for high school students.
Since 1996, ARCF has awarded over $200,000 in grants and scholarships. Every area has received support for a variety of projects. Chatham, Eben, Trenary, Traunik, Limestone area organizations have received almost $44,000 in funds; AuTrain area has received over $19,000; Grand Marais area has been awarded over $28,000 in grants; Munising, Wetmore, Shingleton areas have received the balance. In addition, many county-wide programs or projects have been funded. "These grants show one-half of what ARCF is all about. In order to continue making an impact in Alger County, the other half of our role - endowment builder - must expand. We need the financial support of generous donors to increase our endowment growth so our grantmaking can continue," concluded Bowerman.
---
S.H.I.N.E. Scholarship Fund Established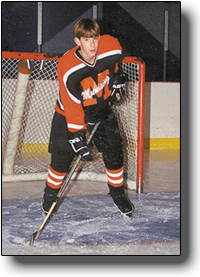 The Alger Regional Community Foundation will be awarding a new scholarship award in June to a graduating senior from Munising High School. The S.H.I.N.E. Scholarship Fund - In Memory of C. J. Wrona was established earlier this year. Application forms for the new scholarship will be available at the MHS office in the near future.
The S.H.I.N.E. Scholarship will be awarded based on community/school involvement and consideration of financial need. In addition, applicants must have participated in the Munising Hockey Association as a player. The scholarship must be used by the recipient to attend a college, university, technical or vocational institution. All scholarships awarded by ARCF are paid to the institution named by the recipient. This year the scholarship will be $1000.
The S.H.I.N.E. Scholarship Fund was established by the family and friends of C. J. Wrona, in his memory. C. J. enjoyed hockey and his commitment to the sport resulted in numerous awards and recognitions for his achievements. He was Captain of his team and for three years had led his team in goals and assists. He participated in the hockey program since he was 6 years old. C. J. also liked playing the guitar. He was a seventh grader in Mather Middle School at the time of his death.
The scholarship, in addition to gifts made to the Alger Regional Community Foundation in memory of C. J. Wrona, will be funded from the proceeds of a local hockey tournament. The first C. J. Wrona Memorial Bantam "B" Tournament is scheduled for March 16-18 at the Alger Ice Arena in Munising. Bantam League teams include players age 14 and under. Eight teams will be participating in a 3-game round robin in two divisions. The championship game is scheduled for Sunday, March 18th.
Besides some great hockey entertainment, the tournament will include opportunities for the public to participate in 50/50 drawings and a concession stand will be operating. It will be a weekend with something for everyone.
For more information about the C.J. Wrona Memorial Bantam "B" Tournament call MHA Tournament Director Ed Heribacka at 387-3831. For more information about making a tax-deductible gift to the S.H.I.N.E. Scholarship Fund, call the ARCF office at 387-3900.
---
SCHOLARSHIP FOR MUNISING HIGH SCHOOL - GRADUATING CLASS of 2002
The Alger Regional Community Foundation is pleased to announce that a new scholarship fund has been established. "The LLOYD C. ARTIBEE SCHOLARSHIP will be awarded to a member of the Class of 2002 during graduation ceremonies that year," reported Mary Bowerman, ARCF Executive Director.
Lloyd Artibee was born in 1909. He was one of seven children born to Abraham and Edith Artibee. The family owned and operated Artibee's Grocery Store in Munising for 40 years. Lloyd often worked at the store for his parents.
He attended William G. Mather High School and graduated in 1927. He was elected president of his class during both his junior and senior years. He was a member of the football team and Hi-Y, participated in the school plays, and was a member of the Senior Book Staff.
In 1940 he married Lucille LaCombe of Munising. He served with the Navy Seabees during World War II in the Pacific. When he returned from the service, he founded Central West Distributors in Escanaba. He owned and operated that business from 1945 until his retirement in 1976.
He was active in his community and was a member of the Delta Area Chamber of Commerce, the AMVETS, Elks Lodge, American Legion, Knights of Columbus, and St. Thomas the Apostle Catholic Church.
A scholarship (amount to be announced) will be available in the spring of 2002 to a student who will graduate from Munising High School. Applicants must be planning to study at a college, university, vocational center or training program. In addition, applicants must have been involved in community and/or school activities. Financial need may be a consideration, but is not part of the criteria for selection.
"Lloyd had no formal education beyond high school. He was a self-taught, successful business man and he knew the magnitude of keeping up with the times. In that spirit, valuing the importance and need for education, this scholarship has been set up in his memory. Mr. Artibee certainly was a model for the recipients of these scholarships. He was involved in his school and active in his community throughout his life. We are very excited that this anonymous donor has chosen ARCF as the means to honor Mr. Artibee and give something back to our community," added Bowerman.
For more information about the next grant cycle, or to make a tax-deductible gift to the Alger Regional Community Foundation, call 387-3900 or direct e-mail to: foundation@algercounty.com
---
LOCAL SUPPORT FOR ARCF
When the need for administrative support for the Alger Regional Community Foundation was announced, numerous businesses and individuals responded.
"We are thrilled with the support we have received to date. The current campaign to raise funds for our operations has created a new awareness of what a community foundation does. Our goal to make a difference to the people of Alger County through grants and scholarships has drawn attention to the need to have sufficient funds to run the organization," commented ARCF Executive Director, Mary Bowerman.
There are numerous ways that individuals, businesses, and organizations can support the operational needs of ARCF. The Mazzali Insurance Agency recently made a $1000 contribution for operations; Bowerman Funeral Home contributed $1000 for administrative support in addition to providing paper for office use and paying the post office box rent. Munising Public Schools is contributing shared office space in the newly renovated lower level of the Mather Middle School. Hiawatha Communications, Inc. has purchased space for year-end advertisements. The Munising News & Alger Shopper continue to provide marketing support by running small weekly columns about ways to make contributions to the community foundation. A $1000 contribution was reported earlier from the Upper Peninsula Power Company.
ARCF relies on income for operations from a 1% administrative fee collected from the endowments. In addition, grants are made from the Operating Endowment for support of administration.
In some instances, cash contributions received have been divided between immediate use for operating expenses and growth in the operating endowment.
Donors supporting ARCF receive tax benefits for their contributions. An added benefit of a gift deposited in the Operations Endowment is the Michigan Tax Credit for individuals or the Single Business Tax Credit. "These tax credits are similar to ones offered for contributions to universities, museums, libraries, or public radio and TV," added Bowerman, "but they are in addition to those credits. We suggest that each donor check with a tax advisor regarding the deductibility of their gift."
---
Return to the Community Foundation Home Page

---
---